Museum Guide
From Kuwahara Yakushido Hall
to Kannami Buddha Statues Museum
In Kuwahara District of Kannami Town, a group of 24 Buddhist statues, including a Yakushi Nyorai (Medicine Buddha) from the Heian period and an Amida Raigo Triad from the Kamakura period, have been protected through the devotion of local residents.To protect these statues from being scattered or lost and to preserve them for later generations, local supporters worked from 1902 to 1906 to build Kuwahara Yakushido Hall into the side of a hill behind Chogenji Temple.
In March 2008 Kuwahara district donated all of the Buddhist statues enshrined in the hall to Kannami Town.
Among the donated Buddha statues are the Amida Nyorai and two flanking attendants (also called an Amida Raigo Triad), which have been designated as National Important Cultural Properties, Some others are designated as Shizuoka Prefecture Tangible Cultural Properties; these are of:Yakushi Nyorai (the medicine or healing Buddha), Bishamonten (the god of warriors), Shō Kannon, Jizō Bosatsu (protector of children, expectant mothers, firemen, and travelers), Juni Shinsho (Twelve Heavenly Generals) . As well as to preserve these culturally precious local properties for generations to come, The Kannami Buddha Statues Museum was established not only to preserve these culturally precious local properties for generations to come, but also to serve as a place for learning and appreciation. All of these statues, await your visit.
Set of Buddha Statues That
Have Been Protected in Kuwahara
It is recorded in a historical manuscript, Hakonesan Enginarabini Jo (an introduction to Hakone and origin and related stories of Hakone Shrine), that the Kohakone-san Shinkoji Temple in Kuwahara was built as a great Shichidō-garan Temple (a Buddhist temple compound consisting of a set of several buildings to represent a perfect world or the universe) in the year 817. And then the Yakushi-Nyorai statue was enshrined in the main hall of Shinkoji Temple.According to the Azuma Kagami, (a historical chronicle from 1180-1266) Hojo Munetoki (the eldest son and heir of Hojo Tokimasa) was buried in a tomb located in Kuwahara after his death at the Battle of Ishibashiyama. It is thought that Tokimasa, who was Minamoto no Yoritomo's father in law, asked Jikkei to make a statue of Buddha to comfort the spirit of his dead son. The people in Kuwahara have been steadfast in their devotion to and protection of these 24 Buddha statues, like the Yakushi Nyorai from the Heian period and the Amida Raigo Triad from the Kamakura period, works have many stories associated with them.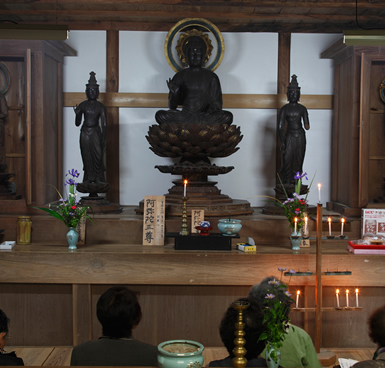 Cooperation for the Museum
The Kannami Buddha Statues Museum was established in cooperation with the following people and organizations.
(Names are in sequence of Japanese syllabary without honorific title)
Izusanhama Co-op
Izu City Tourism Association Shuzenji Temple Branch
Kumiko Inoue
Uehara Museum of Buddhism Art
Kagakuin
Kazuyoshi Kawaguchi
Toshihiro Kawaguchi
Ganjoju-in Buddhist Temple

Kannami Town Culture Association
Hiroshi Saitō
Masumi Shimizu
Shuzenji Temple
Shōzenji Temple
Kazuhiko Suzuki
Masahiko Suzuki
Katsushi Takemoto

Minao Tabata
Nakamura Garden Center
Sumio Nakamura
Hōjōji Temple
Shigeru Hosoi
Yoshida Ward, Matsuzaki Town
Meikōdō Inc. Restoration Studio
Masahiko Watanabe
Izusanhama Co-op
Izu City Tourism Association Shuzenji Temple Branch
Kumiko Inoue
Uehara Museum of Buddhism Art
Kagakuin
Kazuyoshi Kawaguchi
Toshihiro Kawaguchi
Ganjoju-in Buddhist Temple
Kannami Town Culture Association
Hiroshi Saitō
Masumi Shimizu
Shuzenji Temple

Shōzenji Temple
Kazuhiko Suzuki
Masahiko Suzuki
Katsushi Takemoto
Minao Tabata
Nakamura Garden Center
Sumio Nakamura
Hōjōji Temple
Shigeru Hosoi
Yoshida Ward, Matsuzaki Town
Meikōdō Inc. Restoration Studio
Masahiko Watanabe